El Pilón Pregunta … con el Chef Roberto Treviño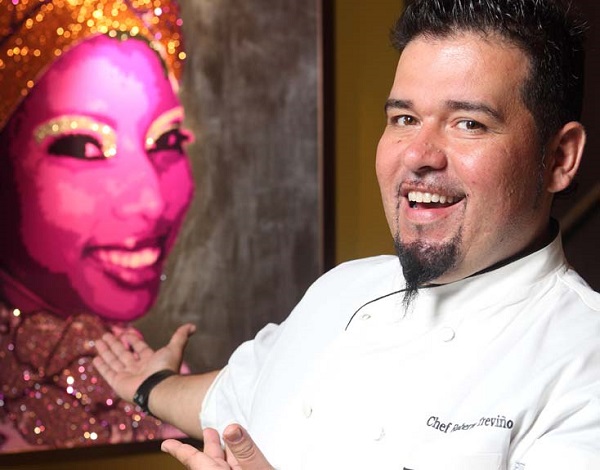 El Chef Roberto Treviño contesta 5 preguntas y comparte una receta con los lectores de Puerto Rico Wine News.
El Pilón – ¿Qué ingredientes nunca faltan en tu cocina?
Chef Roberto Treviño – "English Flake Salt", Siracha , "Chickens Paws" (para hacer caldo)
EP –  ¿Qué vinos nunca faltan en tu cava?
Chef T – The Prisoner – painfully rich & tasty! y Bodegas Muga Reserva – un gran ejemplo del vino Español con "true soul", mi favorito ¡Ole!
EP – ¿Cuáles son tus 3 destinos gastronómicos preferidos en el mundo?
Chef  T – Madrid, NEW YORK  y San Juan – my home city & I believe!
EP – ¿Cuáles son tus 3 restaurantes favoritos en Puerto Rico?
Chef T – La Casa del Chef en Ponce – el mejor ejemplo de comida criolla en un ambiente puertorriqueño tradicional.  Plenty of wine too!  Zacos Tacos en Culebra – awesome feeling, great food & Tequila (otra de mis pasiones) Y Empanadas Bariloche en Los Paseos al frente de "Juice it!". Llévate unas cuantas de estas empanadas para tu casa y ábrete una botella de tu Malbec favorito… Yes please!
EP –  ¿Has tenido alguna vez un "foodgasm", (cuando al probar un plato no puedes aguantar la emoción de exclamar "¡Oh Dios!" u "OMG!"), cuál fue y en dónde?
Chef T – Yes! Fue un huevo que comí en el restaurante Stars en San Francisco del Chef Jeremiah Tower.  Era un revoltillo con trufas blancas, con la cantidad perfecta de sal, yema tan suave que corría, con tostadas y trufas!  It was as if God had spoken to me… like Moses!
Congrí Fried Rice
Ingredientes
4 tazas de arroz blanco cocinado (mejor de la noche anterior)
1 pote de frijoles negros Goya
1/2 taza de cebollines verdes
1 pimiento rojo grande
1 cebolla amarilla picadita
4 dientes de ajo
2 huevos
2 tazas de aceite de oliva
1/2 recao picadito 2oz de Oyster sauce o Mushroom sauce
1 oz of aceite de sésamo
Procedimiento
En un sartén grande y caliente, cocina los huevos en el aceite, uno a la vez.  Añade vegetales picados, menos cebollines y recao (se añade último para preservar sabor).  Añades el arroz, sofríe hasta que esté seco al tacto.  Agregar aceite sésamo, mezcla bien y luego el oyster sauce, cebollines y recao.
Buen Provecho!
Chef Roberto Treviño nació en California.  Es reconocido por su presencia en los shows de televisión Iron Chef: America y The Next Iron Chef. Es chef y dueño de 4 restaurantes en Puerto Rico – Budatai, Casa Lola, Bar Gitano y El Barril. Su proyecto culinario más reciente es El Ñosh junto al Chef Eric Greenspan.  Puedes seguir al Chef  Treviño en twitter.